Pascal Moudi Igri
Pascal Moudi Igri (Douala, Cameroon) currently works as a visiting scientist at KIT within the working group of Peter Knippertz and Andreas Fink. His three-month stay until mid-April 2019 is funded by the TWAS–DFG (The World Academy of Sciences – Deutsche Forschungsgemeinschaft) Cooperation Visits program.
During his research stay, Pascal will investigate extreme rainfall events in Cameroon using observations and convection-permitting WRF simulations. In Cameroon, he works as a forecaster in the SAWIDRA-AC project (Satellite and Weather Information for Disaster Resilience in Africa – Afrique Centrale), which is operated by the newly-established CAPC-AC ("Centre d'Application et de Prévision Climatologique de l'Afrique Centrale"). The SAWIDRA-AC project aims to provide national weather services of the Central African Economic and Monetary Community with weather forecasts that are based on dynamic weather forecasting models. The latter shall be run at a new HPC infrastructure to be established at CAPC-AC.
The researchers in the C2 project will discuss with Pascal how to augment the use of available forecast data and maps for better multi-day forecast for the member states of the Central African Economic and Monetary Community, i.e. Cameroon, Gabon, Chad, Central African Republic, and Equatorial Guinea.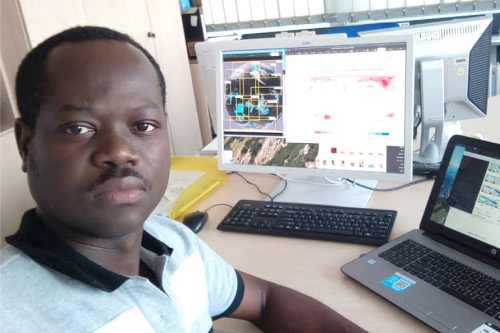 Pascal Moudi Igri