Jeremy Berman
Jeremy Berman is a PhD student in Atmospheric Science at the University at Albany, SUNY. His research focuses on the predictability of high-impact weather. He uses data mining, ensemble model forecasting, and statistically rigorous analysis to discover the casual pathways leading to high-impact weather events.
Jeremy has been invited by the W2W Early Career Scientists to visit all three locations (Munich, Mainz and Karlsruhe) from mid-October to mid-November 2017. He also took part in the 3rd Annual Meeting of W2W.
After his visit to Germany, he wrote: "I want to take a moment and say thank you for inviting me to visit as part of Waves to Weather. The month I spent in Germany from mid-October to mid-November was one of the greatest experiences of my life and I am grateful to all of you for helping to make my visit possible. (...) I spent roughly one week each at the Johannes-Gutenberg-University in Mainz, the Karlsruhe Institute of Technology in Karlsruhe, and the Ludwig-Maximilian-University in Munich, with a presentation of my work at the Waves to Weather Annual Meeting in Kempten. During these visits I had the great pleasure of meeting many of you and learning about your research and sharing a bit about my own. Moreover, I learned a great deal about how meteorological research is conducted in Germany and how graduate students compare with those in the U.S. (...) I hope the interactions I've made will foster further collaborations between scientists in the U.S. and Europe."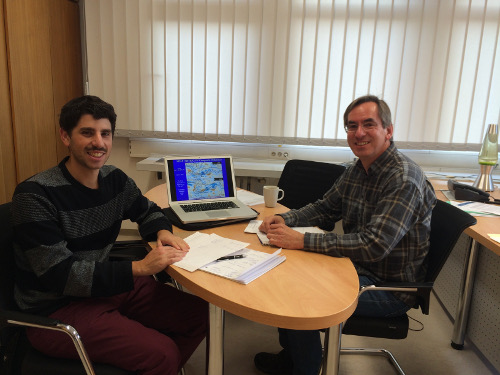 Jeremy Berman and George Craig in Munich
To read more about Jeremy Berman's research, visit his homepage.