Presentation at the Deutsches Museum (14.10.2020)
Thomas Birner gave a presentation within the seminar series "Wissenschaft für jedermann" at the Deutsches Museum in Munich on October 14th 2020.
He presented a historical review of stratospheric research, from its birth to its latest challenges, highlighted some surprising impacts of changes in the dynamics of the stratosphere on the troposphere, and vice versa, and finally illustrated the relevance of the stratosphere for weather forecasting. The presentation was available as live stream and about 50 participants were physically in the room.
The German title of his presentation was: "Dünne Luft und immer gut für eine Überraschung: die Stratosphäre". The flyer is available here (in German) and the live presentation can be watched again here.
Our collaboration with the Deutsches Museum in Munich started in 2017 and continued in 2019. With this year's event, W2W becomes an official and long-lasting partner of the Deutsches Museum.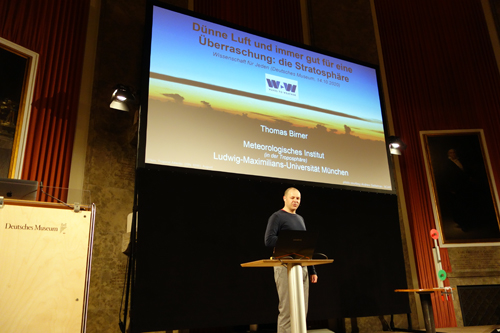 Thomas Birner at the Deutsches Museum on 14 October 2020.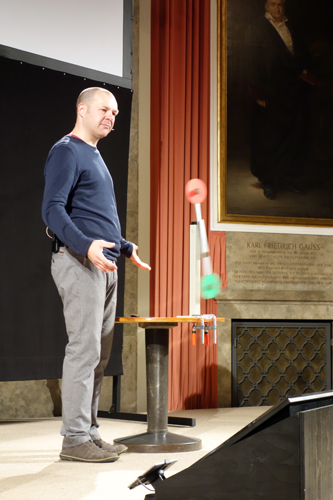 Thomas illustrates a challenge of weather forecasting with a double pendulum.
Photos: A. Laurian