Campaign Data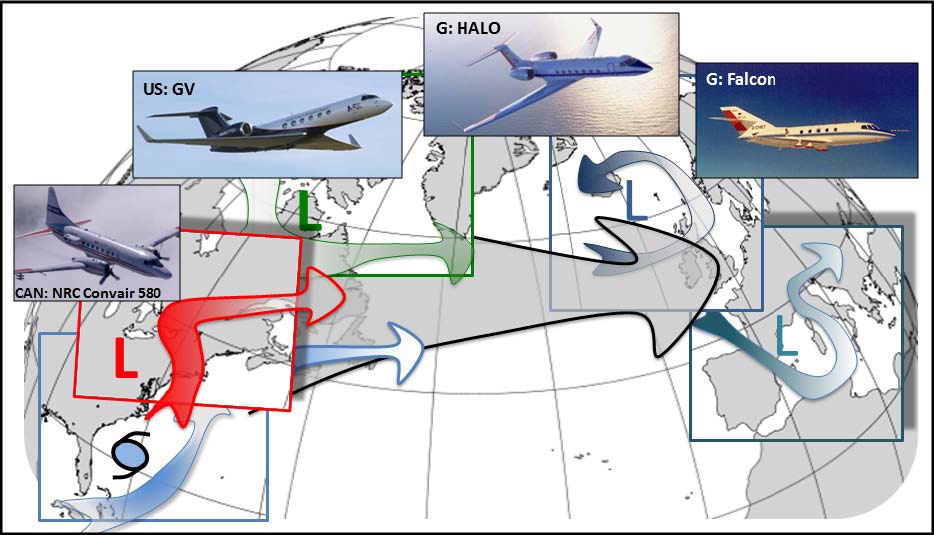 Map of the NAWDEX observation area, schematically indicating trigger disturbances at the western end of the Atlantic, the Rossby waveguide (large gray arrow) and intensifying low pressure areas over Europe. The primary aircraft to be deployed in the campaign are also shown. Courtesy of Patrick Haar.
The CCA Campaign Data stands out because it comes in addition to the routinely archived observations, e. g., from radiosondes and satellites, and is not part of the operational forecasting system. It thus provides an independent framework to evaluate diagnostics and other methods developed using routine data.
In the first phase of W2W, the CCA focuses on the international field experiment North Atlantic Waveguide and Downstream Impact Experiment (NAWDEX) taking place in September and October 2016. W2W scientists play a leading role in preparing the NAWDEX International Science Plan.
The following activities within the CCA are planned:
Facilitating access to campaign data and communication with instrument scientists
Organizing yearly workshops to stimulate scientific discussions and a common analysis of the campaign data and related model simulations
Organizing a workshop shortly after the NAWDEX campaign to give an overview of the observed weather events and the data obtained
Coordinating common case studies allowing W2W scientists to test their different methods in real-case scenarios and benefit from the campaign measurements.
Project A3 provides a focal point for the CCA Campaign Data. The CCA is led by Andreas Schäfler (main coordinator of the German contribution to NAWDEX) assisted by George Craig.
For more information on the activities organized by the CCA Campaign Data, click here.