ECS Annual Meeting (May 2023)
The annual meeting of the Early Career Scientists took place from 3-5 May 2023 in Hamburg. A total of 22 ECS from Karlsruhe, Mainz, Munich and Hamburg met for the final ECS meeting of Phase 2. The main topic of the meeting was knowledge transfer to the ECS in Phase 3. To this end, a brainstorming session was held in which the kind of results and tools to be passed to the new ECS was discussed, as well as where these data and results are currently located, how and whether they are documented, and how one can currently access them. Being an essential part of archiving code, Oriol Tinto tested the Git skills of the ECS with a fully interactive game that involved playing through a series of puzzles using Git commands.
The next day was built around two workshops organized by Maicon Hieronymus. The first workshop focused on providing software using Docker containers. These include all the necessary dependencies of a code in such a way that a user no longer has to worry much about how to get the software in question to run. In the second workshop, Maicon briefly introduced Git CI, which allows the setup of automated tests for software in Git. In between these two workshops, Felix Ament gave a brief overview of the Meteorological Institute of the University of Hamburg, which included a tour to the university's wind tunnels as well as a walk on the roof of the 20-story "Geomatikum" building, which is also where the group photo below was taken.
The program and additional information is available here.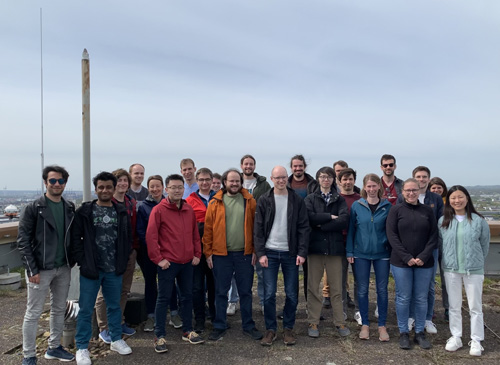 Participants of the meeting on the roof of the "Geomatikum" on the university campus