Open Day at LMU Munich (04.05.2019)
The Faculty of Physics at the LMU in Munich opened its doors for the first time to the general public on May 4th 2019.
During this "Tag der offenen Tür", the research and teaching at the Faculty was presented at posters, stands and talks (e.g. by Thomas Birner).
W2W research themes were presented using a double pendulum to illustrate non-linearities and chaos, a game to illustrate the need for ensemble predictions, and a simulation of the vorticity evolution to illustrate atmospheric flows.
Many interested visitors from all ages and diverse backgrounds asked questions and discussed with W2W scientists.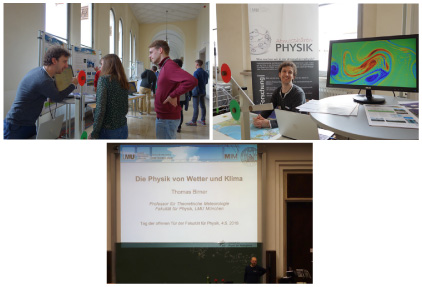 Top, left and right: Posters, double pendulum and simulation of atmospheric flow. Bottom: presentation on weather and climate by Thomas Birner. Photo: A. Laurian
To read more about this event, click here (link in German).