Mini-München 2022
The "Spielstadt Mini-München" is a summer program for children between 7 and 15 years old. It takes place every two years, and took place this year from 1-19 August in Munich. Mini-Munich is a model of the big city where children can work and study, and actively take part in academia, politics, administration, culture and public life in general. The children experience an urban community and social life through play, but in roles and functions that are taken seriously.
Four W2W Early Career Scientists together with two scientists from the meteorological institute ran a "weather headquarters". An average of 5 young meteorologists worked simultaneously every day (from 3-5 August) to observe and measure temperature, wind and humidity in different conditions (e.g. height, shade), to research online and to produce a weather forecast for the week. They then met with the Mini-Munich media (newspapers, radio and TV) to communicate their weather report to the whole Mini-Munich. The participants were highly enthusiastic and motivated. On Wednesday for instance, they worked together with the neighboring garden nursery to explore the effect of cooling by evaporation associated with vertical gardening.
To open the weather headquarters, Peter Köpke gave a presentation on "UV radiation, sunburn and health" within the children university. The topic was of interest to about 45 children who asked many questions at the end of the presentation.
The weather was wonderful, the children were curious and engaged. Together with the colleagues from the meteorological institute, they shaped the activity to their needs and questions.
Thank you to Peter, Philip Rupp, Veronika Pörtge, Richard Maier and Jonas Späth for making this event a great success!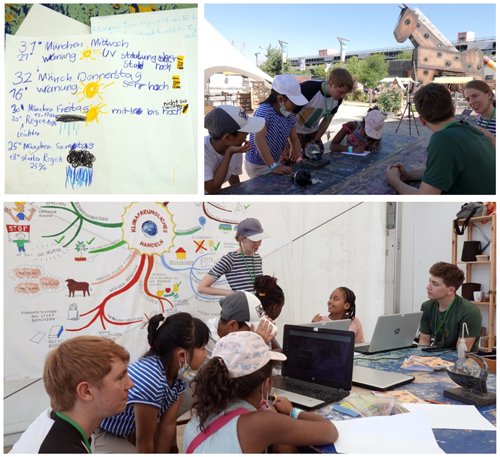 Top left: weather forecast produced by the young meteorologists. Top right: Observing, measuring and reporting. Bottom: Research online to learn about large-scale transport, fronts, etc.